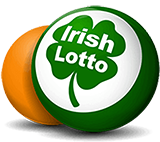 NEXT DRAW
£ 16.2 Million
PICK NUMBERS
Irish Lottery Odds & Statistics
Want to know what are the odds of winning the Irish Lotto jackpot? What are the chances of winning one of the other prizes? Or are you looking to see statistics on which numbers are drawn most frequently or have not been drawn for the longest amount of time? Look no further, we have all sorts of Irish Lottery statistics and useful information here.
Irish Lottery Hot and Cold Numbers
Here are the Irish Lottery numbers which are "Hot" (the most frequently drawn numbers in the past 100 draws) and "Cold" (the least frequently drawn numbers in the past 100 draws).
Note that mathematically all numbers have the same odds of being drawn on each draw.
Irish Lotto Statistics
Many punters try to predict the next winning combinations by studying past draws and previous Irish Lottery results. With statistics dating back to the national lottery's launch, you can use these figures to analyse the numbers and try to work out which balls are likely to be drawn next.
One should note, however, that the amount of playable numbers has increased several times since the lottery's launch in 1988, skewing these numbers slightly.
THE MOST AND LEAST FREQUENTLY DRAWN IRISH LOTTO NUMBERS
Sort by frequency
Sort by number
Choose your numbers
Irish Lottery Odds Tables
Below you will find full detailed information on the odds of winning the Irish Lottery, including the chances of winning the jackpot and all other prize tiers.
Irish Lotto Odds
To Win

Requirements

Prize Odds
Prize Value

Jackpot

6 Numbers

10,737,573:1
Min €2 million*

Tier 2

5 Numbers 5 + Bonus

1,789,596:1
€ 100,000

Tier 3

5 Numbers

44,740:1
€ 1,500

Tier 4

4 Numbers + Bonus

17,896:1
€ 150

Tier 5

4 Numbers

918:1
€ 50

Tier 6

3 Numbers + Bonus

688:1
€ 25

Tier 7

3 Numbers

54:1
€ 9

Tier 8

2 Numbers + Bonus

72:1
€ 3

Any Prize

Any Prize

29:1
-

Any Prize

Lotto Plus Added

14:1
-
Irish Lotto Plus 1 Odds
To Win

Requirements

Prize Odds
Prize Value

Jackpot

6 Numbers

10,737,573:1
€ 500,000

Tier 2

5 Numbers 5 + Bonus

1,789,596:1
€ 5,000

Tier 3

5 Numbers

44,740:1
€ 500

Tier 4

4 Numbers + Bonus

17,896:1
€ 50

Tier 5

4 Numbers

918:1
€ 20

Tier 6

3 Numbers + Bonus

688:1
€ 10

Tier 7

3 Numbers

54:1
€ 3
Irish Lotto Plus 2 Odds
To Win

Requirements

Prize Odds
Prize Value

Jackpot

6 Numbers

10,737,573:1
€ 250,000

Tier 2

5 Numbers 5 + Bonus

1,789,596:1
€ 2,500

Tier 3

5 Numbers

44,740:1
€ 250

Tier 4

4 Numbers + Bonus

17,896:1
€ 25

Tier 5

4 Numbers

918:1
€ 10

Tier 6

3 Numbers + Bonus

688:1
€ 5